Royal Draw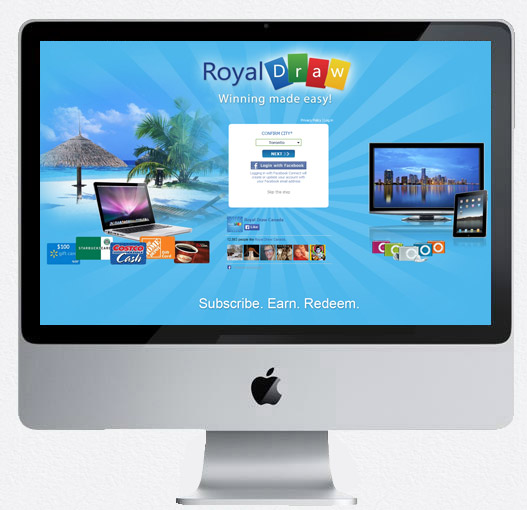 Royal Draw is a popular online contest and coupon community in Canada and the United States designed and powered by Consumer Smart Media. Since 2011, Royal Draw has seen tremendous growth. What began as a simple contest and coupon platform has now evolved into an engaging online destination that provides entertainment and money-saving resources. Site features include:
Daily contests for gift cards and prizes from top brands
Coupons, sale promotions, online deals and coupons code
Fun, addictive games
Free and paid Offers
Free surveys
A daily email notifying users of the newest contest and promotions
An integrated rewards system
Users earn points or draw entries for most of the activities on the site, which can be redeemed for prizes or additional draw entries to increase their chances of winning. An integrated affiliate program combined with fresh content updated daily keeps the site traffic engaged and continuously growing.
POM Kiosk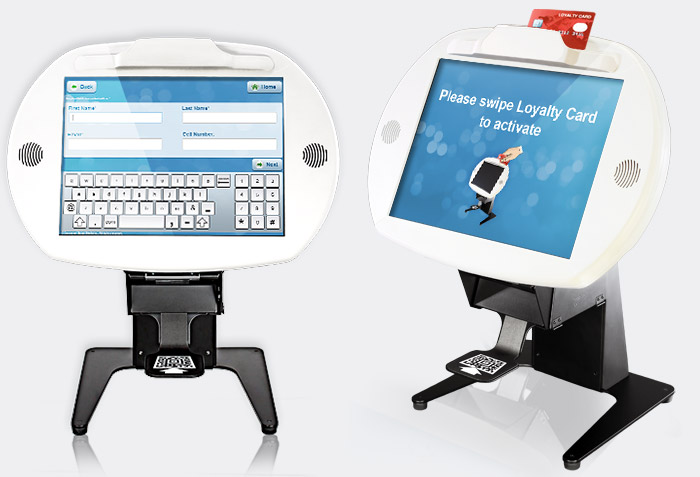 CSM's state-of-the-art "Point of Marketing" (POM) Kiosks are a revolutionary solution for data collection, event registration, promotion distribution, and loyalty card activation. Our POM Kiosks are employed across North America by a variety of marketers - from retail stores to trade shows - and can be customized to suit the needs of the client.
Available features include:
Newsletter opt-in
QR/bar code scanning
Thermal printing (badges, coupons, etc.)
Built-in camera
Instant loyalty card activation/printing
All data collected is stored in an online backend where the marketer can log in and select date range/location that they wish to download. A convenient Excel file of all information collected from each user makes it easy to identify and process new leads.
MiiRent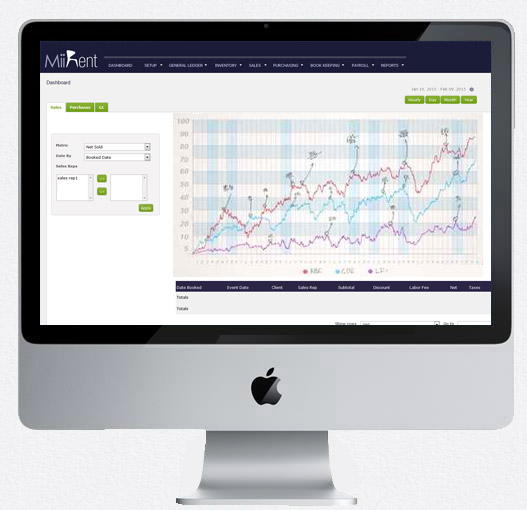 MiiRent seamlessly integrates inventory management with a company's general ledger and payroll module. This innovative online accounting software service was designed to fill a hole in the special event rental industry, where rental inventory is managed and replenished for future events. The user-friendly interface is used to:
Track inventory
Track payments and sales
Create quotes, contracts, POs/purchases, invoices, cheques and packing slips
Provide automated "Out of Stock" email reports
Execute payroll
Track purchases and expenses
Track real-time sales progress
Fiscal year closing and financial reports
MiiRent simplifies the creation of contracts and rental orders, accounts for all incoming and outgoing payments, and gives managers detailed graphs of sale results by employee and date range for a convenient way to manage company progress. The software can be used by all company departments - from sales to production to accounting - making it the perfect one-stop-shop for all aspects of rental management and accounting.
EventRewards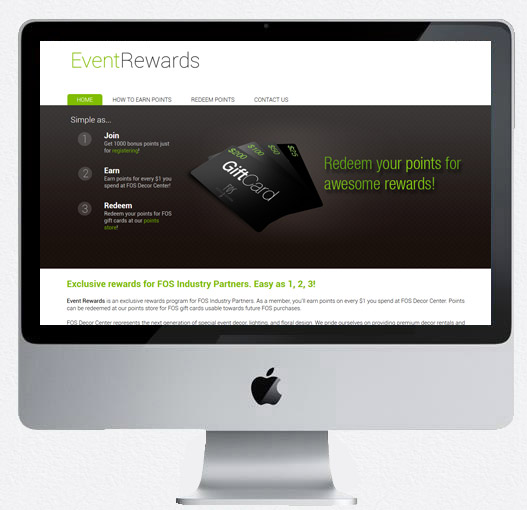 EventRewards is a custom loyalty program that rewards industry partners with prizes or company credit in exchange for their business or referrals. EventRewards users are provided with a unique loyalty card that's connected to their online account, where they can log in to view their earnings and redeem them for prizes. Transactions are managed through an easy-to-use online user interface, and are automatically emailed to both the EventRewards user and the operating company administrator. The program makes it easy to track the value of your affiliates, while providing incentive for them to continue sending new business your way.